The beautiful and talented Beth at Hang On, Honey nominated me for an Ivrester Award! I am super flattered!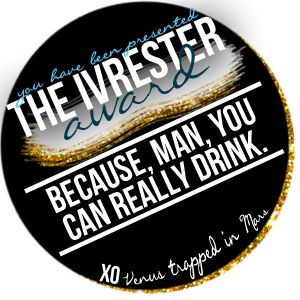 The Rules: 
1. Acknowledge who nominated you.
2. Answer the 10 questions below.
3. Nominate 10 bloggers you think are excellent drinkers. 
4. Don't nominate the blog that nominated you, duh.
1. What is your favorite drinking game, and why?
Beer Pong. I once swindled a drunk man out of $100 while playing beer pong.
2. It's your birthday, what is your idea of a perfect evening? 
Out on the sail boat, never ending mojitos or margaritas, grilled food, friends, laughter, and a hammock. 
3. Money is no object, what is your go to drink at a bar? 
The Red Lion from 21C… I don't know whats in it except deliciousness.
4. How many times have you played "Edward 40 Hands"?
Never… I haven't even heard of it… *hangs my head in shame*
5. Take this alcohol screening quiz here, what score did you receive? 
I'm a 35%… Not too shabby.  
6. What is your favorite memory with alcohol?
When I was on my sailing adventure we all went out on the last night and partied and danced. We drank champagne and Pain Killers like champs! :)
7. What is your favorite song about drinking? Or song to drink to? 
Eric Church's Jack Daniels
8. What is your favorite activity to do while drinking (i.e. boating, bowling, golf, trivia, etc.)
Cooking! Every recipe gets better with a little boozie woozie!
9. In your opinion, which is the number one party school in the country and why?
It certainly wasn't University of Central Arkansas… I have no clue really… Arkansas is LAAAME
10. When do you know you've had too much to drink? What are your signals? 
Tapping my nose
Biting my tongue (the farther back you can get without feeling the moooore drunk you are)
Having to pee incessantly
I can't think of anyone to nominate because of bride brain, so this is all you're getting from me now. Check me back with me in three weeks. :)